What's in and on that car?
Examples of ceramics and glass in a modern automobile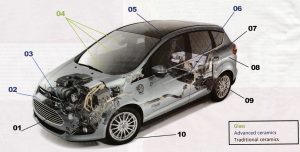 01-Engine
High voltage, high temperature insulators; low-wear coatings.
02-Sensors
High temperature exhaust gas sensors utilizing zirconia; tire pressure an proximity sensors using lead-zirconia-titania piezoelectric.
03- Catalytic convertors
High temperature, low expansion catalyst support structure, particulate  filters high-surface area supports for precious metals, oxygen storage components, selective catalytic reduction catalysts for diesel.
04-Optically transparent materials
Windows, windshield mirrors, optically transparent coatings for cameras and LIDAR, optically transparent conductors for touch screens.
05-lLithium-ion-batteries
Ceramic coatings on separate to increase durability. Advanced oxide ceramics used for positive electrode active materials.
06-Xev power plectronics
High-power, igh efficiency silicon carbide IGBTs to transfer power to electric motor.
07-Plastics
Fillers to improve mechanical properties, thermo-mechanical properties.
08-Paint
Zinc phosphate and zirconia are used for pre-treatment; titania an other oxides used for color and appearance additives.
09-Brakes
Various ceramics are used as abrasives to control brake grip and pedal feel.
10-Tires
Silica additive used to improve heat dissipation and reduce wear.
Innovations and trends steering the automotive market
The automotive industry is undergoing a major evolutions. As they develop new options, cars are evolving into computers  on wheels, a change similar to events in the computer industry 20 years ago and the cellphone industry 10 years ago," according to McKinsey & Company. As a result, we anticipate that a complex ecosystem will merge in the automotive sector."
Some of the major forces influencing the industry are technology integration, lightweighting efforts, and the emergence of electric and autonomous vehicles.
And because the automotive industry is incredibly large and diverse, with tendrils  reaching into many different material, component, and consumer markets, the effects of this evolving ecosystem stretch wide. The emergence of a complex ecosystem means huge opportunities are arising for some markets, forcing shifts in others and inevitably shrinking still other markets.
Calendar of events
January 2018
21-26/01 ICACC18:
42º Int'l Conference and Expo on Advanced Ceramics and Composites – Hilton Daytona Beach Resort/Ocean Walk Village, Daytona Beach, Fla.;
March 2018
21-22/03
54º Annual St. Louis Section/Refractory Ceramics Division Symposium on Refractories – Hilton St. Louis Airport Hotel, St. Louis, Mo.;
April 2018
10-13/04
Ceramitec 2018 – Munich Germany;
May 2018
1-3/05
4º Ceramics Expo – I-X Center, Cleveland, Ohio;
20-24/05 GOMD 2018:
Glass and Optical Materials Division Meeting – Hilton Palacio de Rio, San Antonio, Texas;
June 2018
4-14/06
14º Int'l Ceramics Congress and the 8º Forum on New Materials – Perugia, Italy;
www.2018.cimteccongress.org/14th_ceramics_congress
5-8/06
ACerS Structural Clay Products Division & Southwest Section Meeting in conjunction with the National Brick Research Center Meeting – Columbia, S.C.;
11-12/06
9º Advances in Cement-Based Materials – Pennsylvania State University, University Park, Pa.;
17-21/06 ICC7:
7º Int-l Congress on Ceramics – Hotel Recanto Cataratas, Foz do Iguaçú, Brazil;